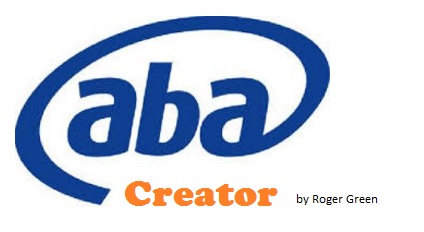 ABN 44 299 638 204
Simple ABA file creation from Excel of direct entry batch transactions. Enabling you to upload your ABA file privately and securely to your bank.
Direct entry is the electronic payment or receiving of funds between bank accounts within Australia. Direct credit/debit using ABA Creator is suitable for any business seeking to process multiple EFT payments at any one time.
Pay your suppliers, direct debit your customers, pay employees by generating an automatic ABA (Australian Bankers' Association) file. This file contains the data in an electronic file, which is then uploaded directly to your banking system online. Paying multiple bills and suppliers all in the same bulk payment created with ABA Creator.
Avoid individual manual data entry which can be prone to error and very time consuming.
ABA creation is easy, simply copy and paste your transactions into the ABA file generator to create an ABA file in excel ready to upload to your bank.
Direct Entry DE files can be used for Payroll, Creditors, Direct Debit, Etc
What is an ABA File?
An ABA file is an electronic data file containing transactions in a format that has been agreed by all Australian Financial Institutions. The ABA Format specifies payments or deductions to be made from one bank account to another.
ABA files are usually created in accounting/payroll software and hard coded by a programmer into the software. However if your accounting software doesn't have this ability or your company has different requirements, then ABA Creator may suit your needs. It makes Direct Entry ABA files from Excel to ABA. It Doesn't matter if you're a big or small business, ABA Creator will save time in manual data entry for direct entry deposits or direct debits.
Direct Debit for Xero
Xero is unable to generate Direct Debit ABA files and requires third party providers at a ongoing additional cost. ABA Creator is popular among Xero users as they are able to generate their own direct debit ABAfile, without relying on a third party and keeping all data secure and private. ABA Creator has no ongoing fees and no limit to its use.
Screenshot - ABA Output File
Screenshot - Direct Entry Setup
Download
ABA Creator Demo version with dummy company is available for download
minimum requirement is a PC using Microsoft Excel 2010 or higher and Macros enabled within Excel.
For MAC using Microsoft Excel for Mac (Microsoft 365) and Macros enabled.

When opening file, please enable editing for Macros to work
Watch the Demonstration Videos
One off Purchase Price
per UPS,User ID or Bank Account with up to 1,000 direct entry lines
(Unlimited use with no ongoing fees)
$300 ABA Creator - Standard
$750 ABA Creator - with Customised Input page
$1,500 ABA Creator - with Email Remittance Advice